This year started very fresh with a lot of positive things and emotions, which I would love to share with you! Since 2021 was emotionally stressful I decided for myself to change some things inside and outside. It happens maybe because I need those changes or maybe because the energy right now predisposes and my intuition gives me signs. Who knows? In both ways I follow my inner voice and it has not disappointed me.
Last year was the year when I felt that I needed a change and this year is time to take action and make it.
But what do I mean by that? I started to have some thoughts of switching from freelance to a full-time job. That was a biiiig challenge, maybe because I didn't have very good experiences working in an agency in the past. Freelancing gives me as many positives as negatives. It really taught me how to have a good structure and discipline, but it also sometimes made me feel alone, just because most of the time I was a one-man show. My problem was actually that I somehow stopped growing in my own business, because I had to deal with other things differently from designing and somehow I lost myself somewhere on the path. I also realized that I miss working in a team and in an office with other people who could give me feedback and help me grow in the industry and in life.
My first big change was to make a step forward and find people to work with, which could be hard to find.
In my case I decided to stop being only a freelancer and find people who share my point of view, life experiences and values. You could be very surprised how many people and companies are talking about that, but not actually do it. And so this turned into a mission for me. After a few months of searching I am happy to share that I found THEM and here
Iam – the new team member of Brandly Collective – very cool studio for branding and probably the place and people I really searched for. Thank you, life! I will definitely tell you more about the place.
The second change that came to my life is actually about my wardrobe.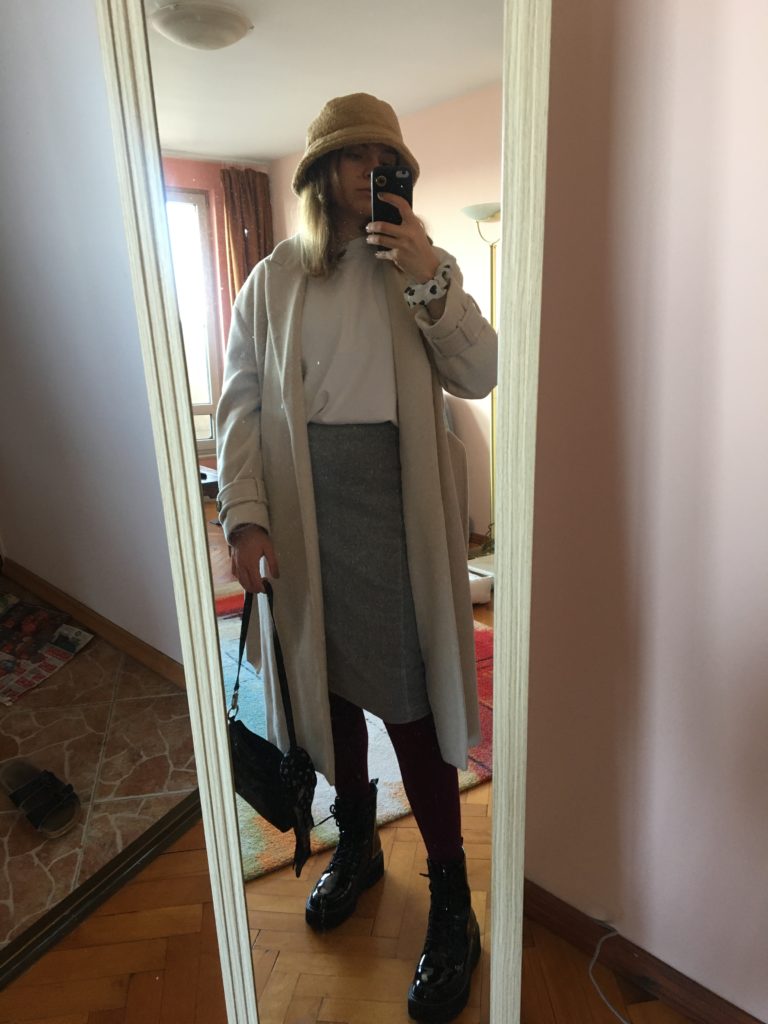 Changing clothes and style could be very fun, but also a bit annoying for non-shopping maniacs like me and for sure not short-term (unless you have a lot of money). Anyone who  knows me or has met me at least once may know that I love wearing wide hip-hop clothes. I also like to have a sustainable wardrobe and lifestyle, which for me means not to buy a lot of clothes, which I will probably wear only once or not at all. There is also a healthy reason to change my clothes and be more careful what kind of material I have on me. Sadly, it turned out that I have some kind of allergy and I have to wear only cotton clothes which as you can guess is very, very hard to make possible , but I will do my best.
Second reason for the change is that I didn't feel very comfortable in my recent clothes and style. My mom will be very proud, because I want to wear more elegant clothes and finally look like a woman (it's not that I wasn't one before that, but what can I say – moms!). I have to say – it felt soooo good to take out the clothes that no longer serve me!

I am also happy to share that I started hip-hop dancing (oh, yes, you definitely can see me somewhere on the dance floor… maybe in one year). I was dancing in high school, but I have never tried hip-hop before (God knows why). It feels so free to dance again!
Aaand last but not least – two months ago I adopted a very beautiful baby cat Aya and since then our home has become warmer and much more fun! I could never feel bored, even when she is sleeping. 
It's only March and I am already looking forward to making all my plans happen. I want to travel more, to learn Spanish, to visit more places on the Black sea, to read meaningful books, to watch good movies to connect with decent people and collect precious memories. 
Adiós, amigos! See you soon!