Books are irreplaceable things in my life and podcasts are probably my favourite listening format after music. It's genius how connected you could be with the hosts and guests and their deep conversations while listening to a podcast. I very much enjoy people with worldly stories, stories that changed the person and could also change the listener. It's not a secret that people are learning much better from stories and could also remember a story faster and way easier. Another thing I like about podcasts is that you can simply put an episode anytime you like to listen to it – while working, cleaning the house, walking or working out. There is also something important about books and podcasts – they are becoming useless if you don't take any information from them. Doesn't matter what genre the book is, everyone who reads could process that information and refract through its prism.
Here is a list with favourite non fiction books that I learned a lot from: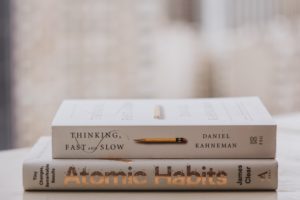 Some favourite shows I like to listen to:




There are more podcasts I listen to from time to time, but these are my top five I follow with big interest!
Photos by:
Tom Hermans on Unsplash
Lala Azizli on Unsplash
Dries De Schepper on Unsplash
Jonathan Velasquez on Unsplash